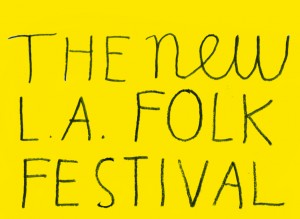 The New Los Angeles Folk Festival celebrates the emergence of new folk inspired music and local culture, throwbacks, roots, experiments with tradition and modern folklore, often in environments inspired by the wild west and old country themes.
Mission:
The ultimate mission of The New Los Angeles Folk Festival is to support new folk music in Los Angeles as it happens, to provide entertainment and community leadership, and to collaborate with like-minded organizations in support of charitable causes and creative ideas. We welcome suggestions for events, projects, and good deeds.
Contact: LAFOLKFEST@GMAIL.COM
Facebook http://tinyurl.com/lafolk-facebook
Twitter http://twitter.com/LAfolkfest
Press & Praise:
Thanks to everyone who has supported us with press or word-spreading: LA Record, Flavorpill, LA Times, LA Weekly, OC Weekly, KUCR, Fat Cat Records, Mexican Summer, Pitchfork, Culturemob, Evil Monito, Avant Music News, NBC Los Angeles, Losanjealous, Folkworks, The Daily Trojan, Festival Preview, Guest Of A Guest, KUSC, Sound Spike, Argot & Ochre, The Coachella Valley Art Scene, EcobuzzLA, LA Taco, Examiner, The Deli L.A., LAist, RM64, Dublab, and more!
"The L.A. urban folk scene has slowly grown over the last decade from a cluster of mutual friends to a small community of bands to its own mini-alt-country music organization, The New Los Angeles Folk Festival." —L.A. Times
"Everyone agreed that this night was special. It was more than just a concert. It felt like an experience. We were transported by the visuals and the music and the environment and the funny delivery of a story by the hostess…All this makes me look forward to anything The New L.A. Folk Fest does."—L.A. Record
"Whomever organized all this…really had their shit together."—StompBeast
"The New Los Angeles Folk Festival has been doing a fine job of bringing that wide-open spirit to the city." —NBC Los Angeles
"The Los Angeles Folk Fest is doing some really cool and unique shows that are definitely worth checking out."—Argot & Ochre
"LA's freakiest folks…The New LA Folk Fest"—The Coachella Valley Art Scene
"It's a beautiful thing for LA. Seems to be washing away a lot of the pretense that gives L.A. a bad name." —RT N' The 44′s, interviewed by The Red Alert
"The New LA Folk Fest…has been designed to mimic the effects of leave-in conditioner on your life…The bands selected represent the folky best of what's happening in L.A. There are many among us drawn to voices reminiscent of ghosts and cartoons, toys and tap dancing and beards and congas."—co-founder Daiana Feuer interviewed by OC Weekly
Some notable events we've curated: 2010 summer fest at Historical Monument 157, Murder Ballads tribute at Echoplex, Amanda Jo Williams residency at the Echo, Louvin Brothers tribute at HM157, Echo Country Outpost Fish Fry, Linda Perhacs & Ruthann Friedman at Mccabe's Guitar Shop, SXSW showcase with Trailer Fire Records, Desert Weekend at Pappy & Harriet's Pioneertown Palace
Musicians we've hosted: John C. Reilly, Linda Perhacs, Sean Watkins, Tom Brosseau, Mia Doi Todd, He's My Brother, She's My Sister, The Chapin Sisters, Frank Fairfield, Damien Jurado, Herman Dune, Les Shelleys, Amanda Jo WIlliams, Pine Hill Haints, Ruthann Friedman, Jenny O., Leslie Stevens, Stone Darling, John Carpenter, Spindrift, Jeffertitti's Nile, The Blank Tapes, Vaud & The Villains, Tommy Santee Klaws, The Driftwood Singers, Olentangy John, Julia Holter, Triple Chicken Foot, Anna Oxygen, Emily Lacy, I See Hawks In L.A., RT N' The 44s, Insect Surfers, Wimberley Bluegrass Band, Simon Stokes, Dick & Jane, Turn On The Sunlight, The Allah Lahs, L.A. Ladies Choir, Hi Ho Silver Oh, Yellow Red Sparks, Henry Wolfe
Charity support: The New Los Angeles Folk Festival does its best to support local and global causes. Last year's summer festival raised funds for the Environmental Defense Fund's Gulf oil crisis initiative and in April we hosted a monthlong fundraiser including seven shows to raise money for the Japanese Red Cross earthquake relief. Proceeds from Zorthian Ranch will be donated to I Love Mountains, an organization dedicating to protecting mountains (and their Zorthians) from destructive mining practices.