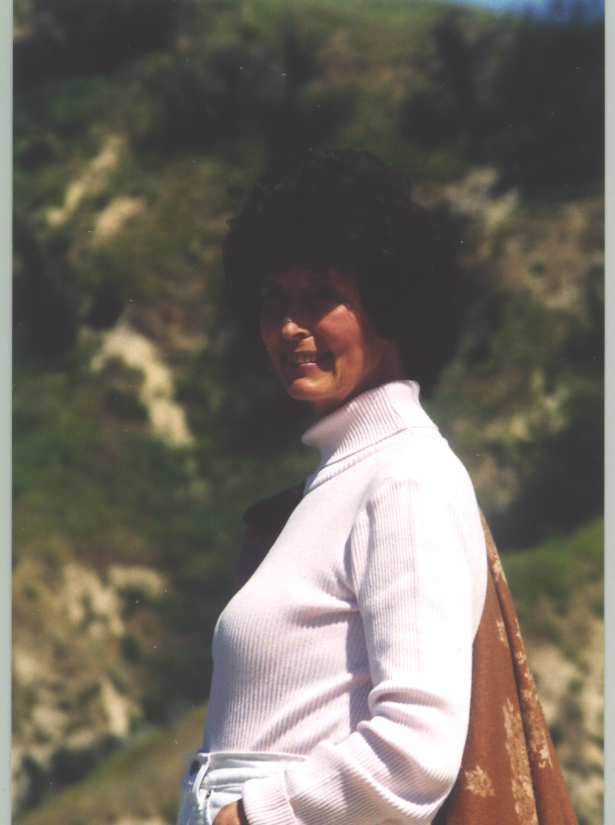 What is folk?
Linda Perhacs: It's difficult to make a definition of something that is constantly evolving. It's not all acoustic. We have cutting-edge techniques, even though it comes from the streets. It's completely new to me to see synthesizers on stage. I didn't even know what they were carrying on stage at REDCAT last year. All these wonderful sounds were coming out but they were playing my music. It was a shocking transformation to see songs I wrote in the 1970s done in today's way of doing it. These are people who as children had video and digital capacity toys. Their music has to show this type of childhood coming up through them now as artists and musicians with newer ideas. No matter if they're writing their own music or doing music from another era, they're going to do it in a new way. They use acoustic sounds, synthesizer, computer, they mix everything. At this point I would have to say folk simply means it comes up from the ground-level, from the people. We as humans put things in compartments to try and control and understand them. The universe doesn't do this. All things move through all things in the energy-based universe. Once we see the world that way, we won't want to stay static, we'll want to move with it. They are playing what they have in their culture, in their era. I still struggle with digital. I have to communicate with my musicians with picture drawings. They explain to me how to translate things into the digital world. Growing up with the computer, these kids are going to create folk in a transformed version coming from their lives and how they've grieved and expressed themselves. I love it. I would never want to stay locked in the '70s. I didn't stay locked in the '70s when I was there! I love to see creativity. You can't box it in. They're all fighter pilots. They want to go out there and fly further and experience new things and that's what creativity is all about.
What do you want to do?
I want to emphasize the incredible creativity and changes in the areas of folk. I'm familiar with the 1970s, of course, but was so struck by the imagination of the younger artists at the REDCAT show that it transformed my view of performing music. We should never limit ourselves to one era or thought pattern. We want to absorb what every era has given us. It's so rich, so deep. Look at all the cooking changes since the '70s! I'm just as excited to see these fusions of textures and sounds and people and ideas. It's in everything in our world. We have immediate access to each other, which we didn't have in other eras. Whatever we're planning it's going to be focused on how energizing that is, rather than a repeat of songs from the 1970s. For instance with my new song, "Prisoners Of Glass," I start with stuff in the old way, then Julia Holter kicks in with today's form of doing things. I did that purposely—using both eras. You don't want to shock people. You bring them gently step by step. I know that's what you want to do. This event is step one in your way of showing what folk music means to you and your ideas and your experience.
How can all music styles fit under the umbrella of folk? Is this particular to Los Angeles?
Because many of the people doing it are not wealthy. This is the sound coming from their hearts and their streets, which I say with respect. It's coming from the people. My friend years ago traveled worldwide. He said, "Linda, do you realize even though I traveled all over the world and have eaten all over the world, when you go to Los Angeles, some of these family businesses are producing food as excellent as what you'd find in the greatest travels? We've got it all here in L.A. and there's no question about it.
What makes a good song?
When we hear an artist perform or express something—If we are talking poetry, piano, a painting—when somebody has lined up their inner soul with the deepest part of them and they've found a way to express it so it touches our deepest soul, thats then when we go, "Wow." It doesn't have to be the best musician. It has to come from the heart. It has to come from the deep part of our soul. If it's just learned or copied, it can be very mechanical. But if it's not strictly or masterly performed, if we are feeling the deepest part of their heart or soul, we stop and pay attention. It's just magnetic. I can hear in my voice when I connect more deeply in my soul to the God part. If that isn't there, it doesn't reach people the same way. The higher light. The deeper light in the soul or something! There's an energy in the sound of a person's voice when they have just linked up with that deeper part of them. You can put someone out there who is filled with fire and passion and you're going to stand there in awe. There's an energy there that is transforming for any artist. It's not just them. It flows through them from a deeper level in the earth. We kinda know when it happens. We look up and say, "I am not sure I did that by myself."
Are you referring to some transcendental cause and effect?
It's energy based. It's not just the words or composition. When you link to that energy that is beyond you, that's when it impacts the most and as an artist you feel most humble because you know something flowed through you. It belongs to everyone. That's what people need. If you don't have that it doesn't affect people properly. If you have it, the humblest of songs can affect people in an amazing way. I always think of Mother Teresa in her tininess. She wasn't a raving beauty but looking at her smile, the smile of a person with transforming energy, she changed the world. It wasn't just her. It was what was flowing through her. It comes from a much higher level of energy. She touched the whole world. As an artist, when we do something that doesn't touch people, we're not connected enough ourselves, we're not channeling that energy enough. The most important part of this recipe is the energy that flows through you to those people. Not your perfected skill as a musician.
What does making "visual music" entail?
In the 1970s it had to do with the technology that we had at the time. Visual music means the twinship of sound wavelengths and color frequencies. They are a pair existing in the universe. A color wavelength goes out as a sound wavelength. They are a twin pair in physics and music. Some of us can see these patterns. They're beautifully complex. When we compose visual music, it's like sculpting in ice. We're trying to create a 3-dimensional thought pattern in music and shape. It's predetermined. It's not a jam session. A jam session is fun and groovy. This all creates color and shapes while it's happening. Both versions of music can be wonderful but visual music is sculpted, shaped sound. This sculpting will create different wavelengths of music and color patterns. When I put together "Parallelograms," I had seen the composition visually. I could just see it, all the movement. I composed the music to try and express what I had seen and to show these elements I saw in silence but knew was music.
Does positivity create a more beautiful shape?
If each of us could see our thoughts emanating from ourselves in patterns and energy, we would take our music and ideas more seriously before putting them out for all to see. I know how powerful these patterns can be. If we could see our thoughts, see our music, some of which is not kindly, we would be shocked. Whatever I do or whoever I work with, I always remind them, you are here to inspire people, to give their best to the world and help the world out. The world needs help right now. What we create musically or in painting or film, these thoughts have a shape, they have a form, they have a color, they have a power. It reaches the audience and goes beyond the audience. Music is not just a jam that exists for a second. The closer the people are to you the more they will be impacted by it. I would never put out anything on an audience that is hateful. I don't want them to deal with that. I want them to have something that will help their lives. We are not here to sell hate for dollars. We are there to be creative in a capacity that lifts peoples lives, not put them down. A lot of people sell hate for bucks. It's real important to understand the difference.
With all this technology, could the guitar come obsolete?
Never! They're going to blend them. They're not going to give up on the old. There's a value there that is unarguable. I see people using very old mics that add warmth to your recording. There is a quality in old technology that you can't get in newer equipment. The organic and the digital will blend. As long as people focus on nature and being more in touch. It would be very dangerous to ever turn your back on something so important, where all life comes from. But we do have to allow 24 year olds to bring out the things that they grew up with in their creations. That's the way they have to do it. We raised them. Listen to their toys, their computers. Their music is going to have those qualities. It's a delicate balance between trying to hold on to both. Our greatest surgeons will digitally remove cancer with baby robotic pinchers. It's as delicate as what these guys do on the mixing board. It's a demanding hand eye brain control job. They can't even teach these techniques to old doctors. It has to be a child that gets it. Hopefully that child will be connected to nature and god so as not to lose the other.
—Daiana Feuer
photo by Lauren Dukoff